Day of the Dead #6
Painted Styrofoam Decorative Skull - With matching card/envelope - Matching pair of magnets
Sorry, SOLD --- More coming soon!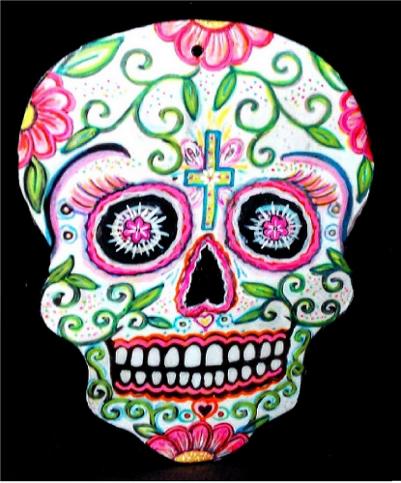 Each decorative Day of the Dead Skull is hand painted on a .25" thick piece of styrofoam.
Sprayed with a clear poly finish, painted black on the edges and back, this decorative skull will last for a long time!
(It is a styrofoam skull face, with no black background... ...Just the card has a black background.
The matching 4 x 6" card can be used for correspondence or for framing. Very nice!
Also comes with a pair of 1" matching magnets!

------------------------------------------------------------------------------------------------
< Back to Day of the Dead Skulls INDEX
------------------------------------------------------------------------------------------------